Latinas Wine Club Summer Wine List has 6 wines that are perfect for summer drinking, no matter how hot it gets outside. These wines are crowd-pleasers considering that we will get together with family and friends. They also offer value and complement the light fare we enjoy during the summer. Unfortunately, the wine industry, Amigas, still has shipping delay problems and supply chain chaos. However, we are crossing our fingers, hoping you can find the wines at the link we share or at your nearest liquor store.
1. The Fine, Fresh, and Fierce Rosé
This Rosé from the Golden Coast is, as Katy Perry sings: Fine, Fresh, and Fierce. With aromas of strawberry roses and crushed rock. On the palate, flavors of watermelon and cherry preserve along with vibrant acidity and a hint of minerality with a pronounced crisp finish.
The Pinot Noir grapes used to produce this wine are grown in The Petaluma Gap AVA. Petaluma Gap is a relatively new AVA and a subdivision of the famous Sonoma Coast AVA. Petaluma Gap AVA is characterized by receiving cold ocean winds and fog similar to the Mediterranean climate. The AVA overlaps the border between Sonoma and Marin counties. Over there, the Keller Estate vineyards are located where they have been thriving for more than 30 years.
About Keller Estate
Over 30 years ago, the Keller family began producing organically farmed Estate wine. They intended to capture their property's distinct soil, topography, and climate. This terroir-driven philosophy enables them to guide the process from vine to bottle, creating beautifully balanced and expressive wines with a true sense of place.
We are so happy to partner with Keller Family. We have a unique opportunity for you to taste the Petaluma Gap Rosé 2021. Use the code "LatinoLove" at checkout for a 10% discount and a flat fee of $15 to ship any order.
https://www.kellerestate.com/Wine
2. The 1 Litter Rosé: Côte Mas Aurore Rosé 2021 (1L/$12.49):
Yes, Amigas, you read that right. Côté Mas Aurore Rosé comes in a super convenient 1-liter bottle to share with family and friends. It's a crowd-pleaser since offers a rich, smooth palate full of fresh red fruits. Pairs perfectly with seafood and light cheeses and crackers.
This Rosé is produced in the vineyards of Côté Mas, situated along the southern coast of France. Over there, they receive the warmth of the Mediterranean climate, combined with breezes off the Atlantic ocean to create delicate wines.
It's not just about rosé during summer.
In recent years, Rosé has been leading the summer wine selections, but white wines are the classic summertime sippers. Still, some of us prefer white wines (*raises hand*). So, from California to France, we have the O.G. whites that are a great addition to our summer wine list.
3. El Pino-Gri: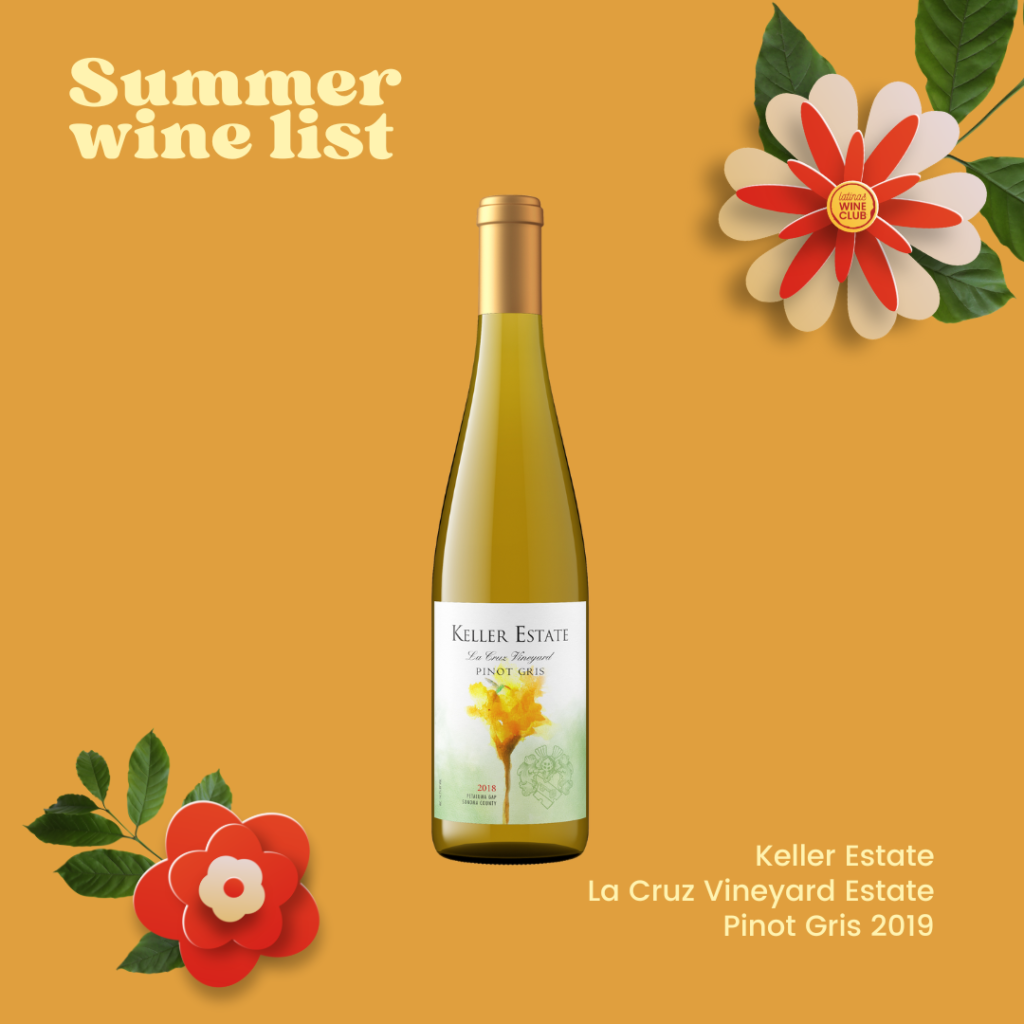 Pinot Gris is a grape that typically produces light- to medium-bodied White Wines. This Keller Estate Pinot Gris 2019 is no exception to the rule.
The aromas of melon and florals will seduce you. Keller Estate Pinot Gris 2019 is dry and floral at first sip. Has also flavors of nectarines and tropical fruit such as kiwi on the palate. Pinot Gris naturally draws a significant amount of minerality from the ancient seabed soils of the La Cruz vineyard. It is medium-body white with moderate acidity and weight with a rounded finish.
Pair this with light and mild cheeses or salads, and surprise your family with this selection. Get "El Pino Gris" of Keller Estate with a 10% discount and a flat fee of $15 to ship any order. Use the code "LatinoLove" at checkout.
https://www.kellerestate.com/Wine
4. El Cha- Cha-Chardonnay
After you try Oro de Plata, you can't tell us that you do not like Chardonnay. This divine Chardonnay has bright aromas of pear, hints of lemon zest, crisp green apple, and exotic herbs such as jasmine. In addition, it has notes of peach, stone, and mineral nuances on the palate. This elegant Stainless-steel fermented and aged in neutral oak Chardonnay displays a balance of fruit, acid, and rich mouthfeel, leading to a long, rounded finish. This Chardonnay will pair excellently with grilled fish and light pasta.
Use the code "LatinoLove" at checkout for $10 off and $15 flat shipping rate. https://www.kellerestate.com/Wine
5. Sauvignon Blanc Out!
Is this a summer wine list if we do not include a Sauvignon Blanc?
Sauvignon Blanc is a favorite for the summer. Even though we are focusing on classic white french grape from a wine region we haven't explored before in Latinas Wine Club: Côtes de Gascogne.
This divine 100% Sauvignon Blanc from Côtes de Gascogne is everything you expect in a summer wine. Full of intense citrus and tropical aromas and flavors, finish with a lean mineral drive down that palate. Prataviera, in fact, took over the vineyards from her mother (who helmed the estate since 1960) while both following in her family legacy and allowing for innovation, such as the use of organic fertilizer to preserve soil.
On top of that, this wine is produced by a female winemaker, Elisabeth Prataviera of Domaine de Ménard & Haut-Marin. What is more amazing about this wine is that through the partnership production with Le Grand Verre, it comes in small bottles of 187 ml – 6.3 oz, and you can carry it everywhere.
Le Grand Verre focuses on organic and biodynamic techniques in the vineyard and the winery. LGV's portfolio is dedicated to showcasing producers who have moved toward organic, biodynamic, and ethically-made winemaking techniques, with most of them certified by Ecocert and Terra Vitis.
6. El bubbly:
Poema Brut Cava (750 ml/$12.49):
"This is one of my favorite Cavas! " wrote Cynthia, the ambassador coordinator for Latinas Wine Club, so take her word for granted.
Made in the traditional Champagne method, the bubbles are persistent, and the taste is clean, crisp, and fresh. It is easy to drink on its own and versatile to pair with salads, appetizers, fish, and all your summer fare.
The Poema Brut Cava is widely available and at an excellent price point.
This sparkler is a good match with light tapas, oysters, and seafood.