According to Forbes, U.S. Rosé sales volume increased by an astounding 1433% from 2010 to 2020.
Usually, we are referring to Provencal Rosé. But, on top of that, Victoria James, one of the most influential voices and the youngest sommelier in America, wrote DRINK PINK in 2017, giving us all the facts that we need to get more in love with Rosé.
Let's take a step forward and move beyond Hampton Water. Not that I have something against this exquisite Rosé from the Bon Jovis, but it is time to explore new Rosé styles such as the Italian Rosé!
Italian Rosé, Have you heard about it?
Italy has produced Rosé since The Roman Times. However, it has lost popularity over the centuries. As a result, Italians haven't been very fond of the rosé wine trend until recently. Since French Rosés have grown in popularity over the last ten years, the Italians want to join the Rosé Party in the USA. In Italy, the wine regions have their own pink-hued drink called rosa. Because they don't drink Rosé, as a result, they established the Rosautoctono Italian Wine Institute to reintroduce their finest Italian rosas. Let's explore some of the Rosa or Vino Rosatto that we had during the event Rosé for Bae Soirée with Latinas Wine Club WineSchool Online Class.
Rymarosé is a cheerful Sangiovese brut sparkling wine and is a product of one of Europe's most up-and-coming wine regions: Offida in the Marche region on the shores of the Adriatic sea.
This Sparkling Sangiovese Brut is a fresh everyday sparkling Rosé produced in the emerging Offida wine region on the central-eastern coast of Italy. Citrusy and floral (violet) at the nose, it's smooth at the palate with notes of red berries and yellow stone fruit. Currently is one of the best price-quality sparkling rosés in the market today.
Pairing: The perfect pairing is with white pizza and fried appetizers. Excellent also with seafood and shellfish.
Appellation: Marche IGP
Chiaretto di Bardolino DOC 2021 Gorgo
Chiaretto means "light" or "clear," and winemakers in Veneto and Lombardy have been producing rosas on the shores of Lago di Garda using the same grape-press technology since the ancient Roman era. As a result, Chiaretto from Lombardy has a light, salty flavor and is high in acidity and low in alcohol.
Chiaretto di Bardolino DOC 2021 is produced by Cantina Gorgo. Roberta Bricolo is the current CEO of the family business, founded in 1975 by her parents, Alberta and Roberto. Cantina Gorgo has been dedicated to producing the classic wines of this beautiful corner of the Veneto region since its inception.
Gorgo produces the region's signature wines: Custoza, Chiaretto, and Bardolino. The morainic soil, composed of rocky debris, stones and pebbles, humus, and silt, gives their wines minerality and great flavor, while Lake Garda currents create a Mediterranean microclimate that aids in the development of aromas of white and yellow fruit, with hints of citrus.
Pairing: Chicken salad, seafood, and shellfish.
Appelation: Bardolino DOC
On the other side, on the eastern shore of Bardolino, the native grapes used to make rosa are juicy Corvina and herbaceous Rondinella, while producers on the western beaches in Lombardy prefer the native Groppello grape, known for its black-cherry notes.
Ripiddu grows under the hot sun, -and occasional eruption -on the slopes of Mt. Etna; This rosé made from Nerello Mascalese, Nerello Cappuccio at Mount Etna is dry and crisp, balanced, and persistent. Fresh red flowers, strawberry, raspberry, and grapefruit, complement the volcanic soil's high minerality (sapid note). It is harmonious and easy to drink.
Mount Etna is the highest volcano in Europe, and it recently began catching the attention of wine connoisseurs and sommeliers. Hundreds of farmers have grown grapes for centuries for family consumption on its northern, eastern, and southern slopes, and wine was an essential part of the meal more than a drink per se.
In the last 30 years, thanks to a consortium of visionary producers, Sicily in general, and the Etna region in particular, were able to implement more advanced farming and vinification processes which enhanced the uniqueness and the high quality of the grapes, soil, and micro-climate (terroir).
Pairing: Fish tartare, pasta with seafood, grilled shrimp, but also chicken salad and arancini.
Appellation: Etna DOC, Italy
We invite you to take the next step in your Rosé Journey and Order These Three Italian Rosé wine bundle from The Organic Wine Store>>HERE<<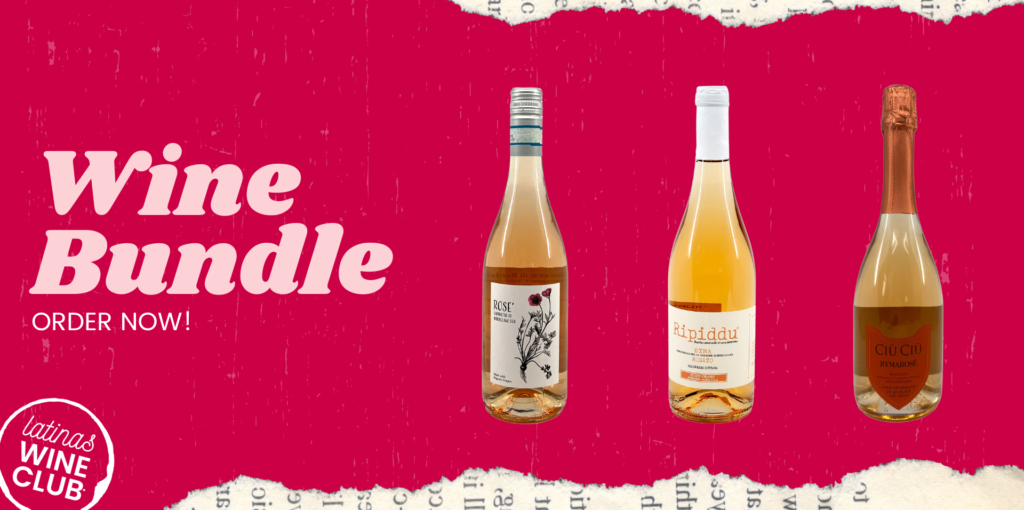 Other Italian Rosé that we recommend to explore:
Valtenesi Chiaretto Wines
Cerasuolo d'Abruzzo
Salice Salentino Rosato Wines from Puglia
Castel del Monte Bombino Nero also from Puglia
Ciro Rosato from Calabria