Looking back on Château de Malengin's Eve wine private tasting event in New York City, it's clear that it was an evening of fine wine and good company.
Marina Mendieta and Constanza Pinto, Ambassadors of our NJ/NY Chapter, had the opportunity to join Antton Bastianaaggi from Baron Edmond de Rothschild Heritage, representing Château de Malengin's Eve wine.
Cuveé Eve Château de Malengin
The wine tasting was a unique experience because the newly released Cuveé Eve is associated with the revival of Château de Malengin, whose origins date back to 1330.
Eve Château de Malengin is named after one of the four daughters of Benjamin and Ariane de Rothschild. Marina took great-tasting winemaking notes during the event and mentioned, "Eve is a 100% Merlot aged four months in a French oak barrel, six months in amphorae, and two months in stainless steel tanks, aged by a total of 12 months."
The vinification process of Eve is very innovative. Constanza highlights from the tasting event, "They (Château de Malengin) are using amphorae to age the vine, which allows that micro-oxygenation to preserve the freshness and other natural qualities. This wine is very unusual in the Bordeaux region."
Latinas Wine Club appreciates the legacy of Château de Malengin, but it is precious to see a classic producer that innovates into new world styles of wine. Marina, in this regard, states that "the presentation of this wine was put in the context of its origins, specifically on the family name and heritage, to understand the product in hand so different from the portfolio Rothschild. I was pleased to see them evolve from being an old-world wine producer doing new-world wine strategies."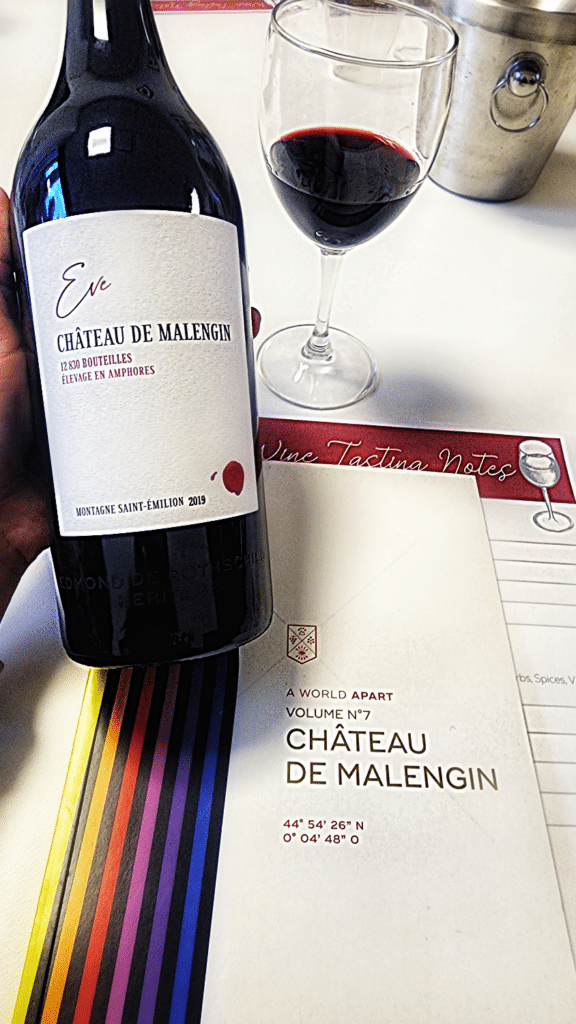 Thank you to Cognac One for supporting these experiences for Latinas interested in moving their career in wine forward and acknowledging us as educated consumers. We appreciate your collaboration.