Did you ever think of Arizona as a Wine Country? The state's governor recently recognized the flourishing wine region as an essential sector in agribusiness, employment, and tourism by designating March 2022 as Arizona's first official Wine Month. Many of Arizona's wineries are female-owned and/or operated. With the help of IT Public Relations, Proudly representing the Arizona Office of Tourism, we've put together a list of some of the women helping create Arizona's award-winning wines!
Julia Dixon, Winemaker, 1764 Vineyards
Julia Dixon's passion for winemaking didn't begin until her 24th wedding anniversary in October 2012 during a visit to the Verde Valley. Two years later she moved from Phoenix to Cottonwood and began her studies in viticulture and enology at Yavapai College. After her graduation in 2016, Julia and her husband purchased their own land in Pearce, founded 1764 Vineyards, and she began interning at Four Tails Vineyard. Today, Julia is the head winemaker at their 30-acre property working with Petit Verdot, Picpoul Blanc, and Vermentino varieties.
Brooke Lowry Ide, Winemaker, Vino Stache Winery
Brooke's winemaking journey began in 2014 when she enrolled at Yavapai College studying viticulture and enology. She has interned at Four Eight Wineworks, Caduceus Cellars, Merkin Vineyards, and Callaghan Vineyards. In 2019, she began her one-woman operation at her own winery, Vino Stache Winery. She has delayed planting on her 54-acre property, but is building her brand with fruit sourced from several Arizona growers. Her first wines were bottled in 2021.
Megan Stranik, Co-Owner, AZ Hops & Vines
Megan was introduced to the world of winemaking at Sonoita Vineyard where she spent a year as a volunteer, helping tend the farm. For many years after, she worked at various wineries learning the process of winemaking, but owning her own winery was always her goal. Today, she co-owns AZ Hops & Vines with her sister, Shannon, where you can almost always find her tending to the vineyards.
Shannon Austin Zouzoulas, Co-Owner, AZ Hops & Vines
Shannon grew up in Southern California and attended the University of Maryland. After returning to California, she began volunteering at wineries and festivals and began conspiring with her sister on how to get into the industry themselves. While her sister handles viticulture and oenology, Shannon was inspired in the marketing, hospitality and agro-tourism side of the business. She spends her days creating fun events, meeting great people, trying new wines, and marketing their winery.
Monica Preston, Owner, Birds & Barrels Vineyards
Monica Preston founded Birds & Barrels Vineyards on 50-acres of land with her husband Chad in 2015 with the goal of crafting ultra-premium Arizona wines. Though she does not have a background in viticulture, her passion and drive to learn has been helpful on this adventure. Monica handles water management, herbicide and pesticide management, fertilizer regiments in the vineyard, vine assessments, petiole, and fruit sampling prior to harvest. She also handles the wine club and Founders program planning and coordination. Though they have been called crazy many times along this journey, they remain ambitious and plan to expand while planting in 2023.
Gayle Glomski, Bree Nation, Lauren Maldonado, Page Springs Cellars
Gayle, Bree, and Lauren all work at Page Springs Cellars in Cornville, Arizona where most of the workers are women. The three came together and collaborated on Vin de Filles (Girls' wine in French), a wine produced by women to highlight feminine strength within the world of wine. The women care for specific rows of vines for their entire growing cycle, then bring their harvest to the cellar to ferment, press, and bottle their wine. The majority of profits from the sales of these wines benefit The Verde Valley Sanctuary, a local nonprofit that supports women who are victims of domestic abuse, assault, and human trafficking. This project not only empowers women in wine, but also in the community.
Valerie Wood, Heart Wood Cellars
Valerie Wood moved to Arizona with her husband Daniel in 2009 for a new lifestyle and plans to contribute and participate in the growing sector of the Arizona wine industry. In 2013, she began studying viticulture and enology at Yavapai College in the Verde Valley while working part time at the Yavapai College Southwest Wine Center planting the college's new vineyard. In 2015 she graduated with honors and her degree and was invited to join the Four Eight Wineworks-Caduceus Cellars winery family. In 2016 Heart Wood Cellars released its first vintage following the guidelines of their business model – to craft wines they love and want to share with others.
Desiree Gerth, Owner and Winemaker, Strive Vineyards
Desiree Gerth moved to Arizona with her husband shortly after graduating from the University of Wisconsin-Madison. While on a weekend vacation to Arizona wine country, they decided to try to make their own wine with a home winemaking kit purchased from a local brew shop. Though the first batch was undrinkable, they persisted, first creating an in-home winery and then looking for their own land in Willcox. She and her husband with the help of family and friends have built everything themselves from the ground up – fencing, gates, irrigation systems, trellis systems, utility shed and more. They are completely off-grid utilizing solar power for their well pump and green, sustainable farming practices. In 2018 she began her professional winery career at Golden Rule Vineyards, and today oversees administration and operations for Strive Vineyards and works in all areas of wine production, winery management, and operations at Cochise Wine Co.
Peggy Fiandaca, Owner/Brand Manager, LDV Winery
After an incredibly successful career in Urban Planning, Peggy and her husband set out on their "second act" – wine. Wine was always a passion they shared; they traveled the world drinking, collecting, and absorbing everything they could about wine. They are often asked if owning a winery was their lifelong dream, but it was purely serendipitous (or a mid-life crisis). LDV winery sits on a 40-acre property, grows Rhone grape varieties, and produces about 2,500-3,000 cases per year. On a day to day basis, Peggy is responsible for strategic planning and analytics, wine marketing, public relations, sales, tasting room operations, contracts, regulations, trademarks, website, social media and all staffing. Peggy has served on the Arizona Wine Growers Association board as Secretary and President for two terms. She is a member of Les Dames d'Escoffier International and Women at the Top, a female business owner networking group.
Carla Milić, Wineworker, Los Milics Vineyard
Carla was born and raised in Chile, but the bulk of her training has been in Sonoita with local winemakers. She took a few courses at the University of California, Davis and also assisted during a harvest in Chile. Los Milics Vineyard is located in Elgin; it sits on 20 acres with 12.5 acres being under vine. Since the winery opened for tastings, Carla is responsible for greeting guests and guiding them through their tasting and providing tours of the construction site where the new tasting room and casitas will be located. Once harvest peaks, Carla will be receiving fruit, processing, cleaning, and monitoring fermentations. Her favorite part of the job is nurturing vines from infancy through their entire growth cycle. Carla continues to be inspired by other independent and hardworking women in the wine industry.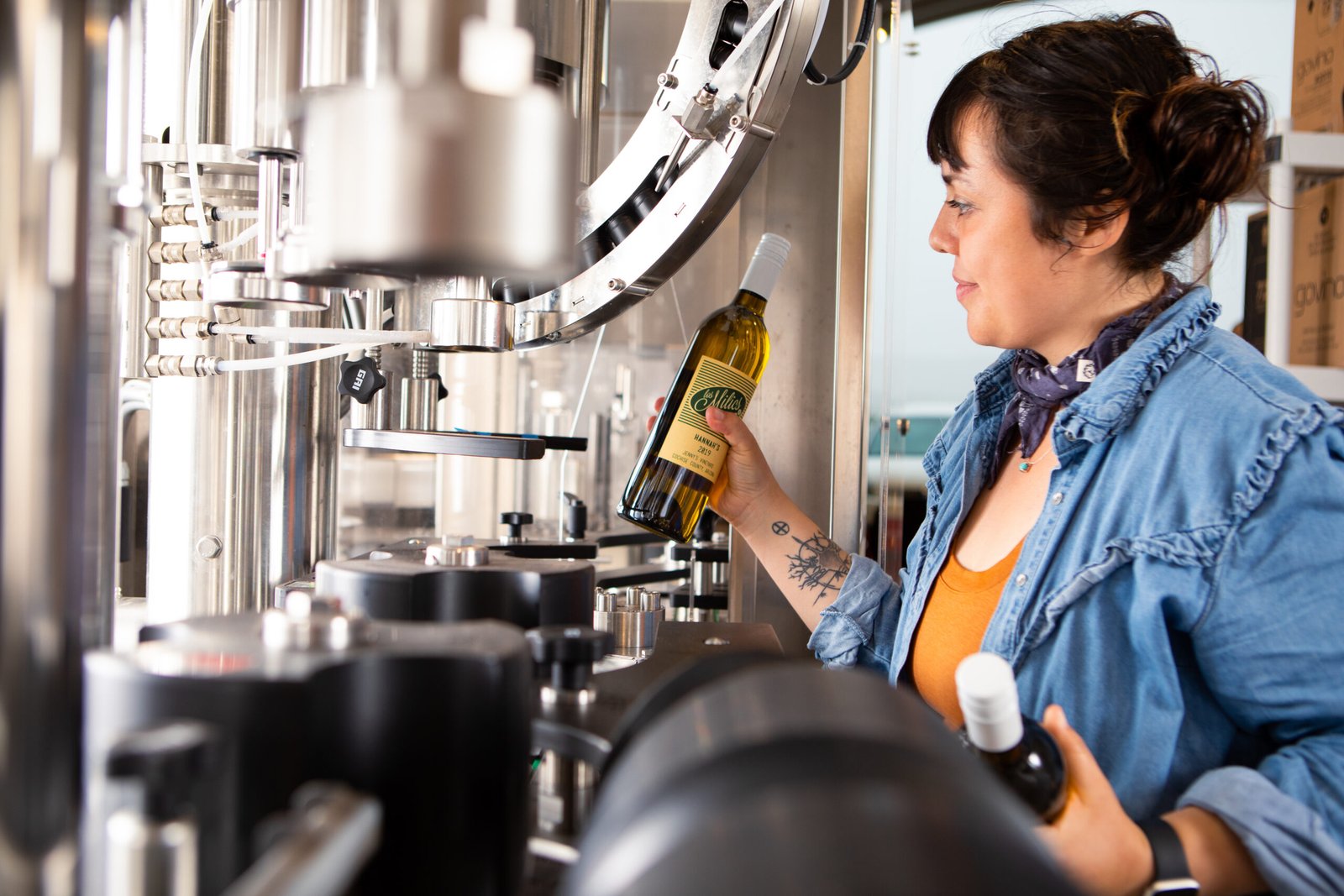 Ann Roncone, Owner/Winemaker, Lightning Ridge Cellars
Ann was born and raised in the San Francisco Bay area. She worked an office job and winemaking was her hobby. For about five years, she read books on winemaking and viticulture, planted vines at home, took courses at the University of California, Davis, and worked harvests at local wineries. When she and her husband decided to pursue a career in wine, they couldn't afford land in California, and decided to visit the Arizona viticulture area as her husband had gone to college in Tucson. In 2003, they purchased land in the Sonoita/Elgin AVA and in 2004 they began the process of starting a vineyard and winery from scratch. Lightning Ridge Cellars is located in Elgin and specializes in Italian varietals. It is hard to say what she enjoys most about winemaking, but the amount of time she spends outside is definitely among the top things. 
Kim Reed, Assistant Manager/Wine Club Coordinator, Javelina Leap Vineyard, Winery & Bistro
Kim came into the wine industry somewhat by accident after working in a community care and hospital as a Registered Dietitian for 10 years. Her in-laws, Rod and Cynthia Snapp own Javelina Leap, and when her husband Lucas took over as GM and head winemaker, it was quickly apparent that he was going to need help. In March 2020, Kim joined the family business, initially as the Wine Club and Event Coordinator. Since then, her role has grown to include helping the tasting room manager, serving as office manager, booking bands, shipping wine, answering emails and filling in the gaps wherever needed. Most of her wine knowledge comes from being around the business and family the last seven years, however she will be pursuing a Level 1 Sommelier certification in the future.
Lori Dutt Reynolds, Winemaker, Sonoita Vineyards
Lori is a third generation winemaker in Arizona with a Certificate in Enology and Viticulture from the University of California, Davis. She was inspired to join the wine industry by her grandfather, Dr. Gordon Dutt – the founder of the Arizona Wine Industry. Lori loves the art and science behind creating wine and her favorite parts of the job are blending wine and working in the vineyards with her family. It is important to her to have her children involved in Sonoita Vineyards to work and learn the wine industry first hand like she did.